Who was Farrokh Bulsara ; Stone Town, Zanzibar Town, present-day Tanzania, September 5, 1946.
Kensington, London, November 24, 1991)
Was one of the most iconic and charismatic singers in rock history.
His voice, his style and his personality made him a legend that transcended the boundaries of music, but in addition to being the leader of Queen.
Freddie Mercury also had a solo career that allowed him to explore other genres and artistic facets. In this post, we tell you the complete story of Freddie Mercury and his personal projects as a soloist.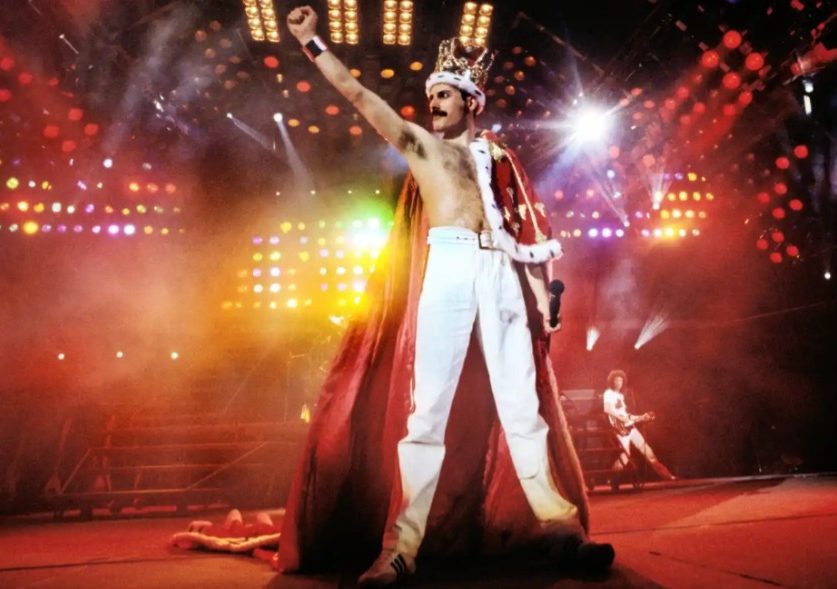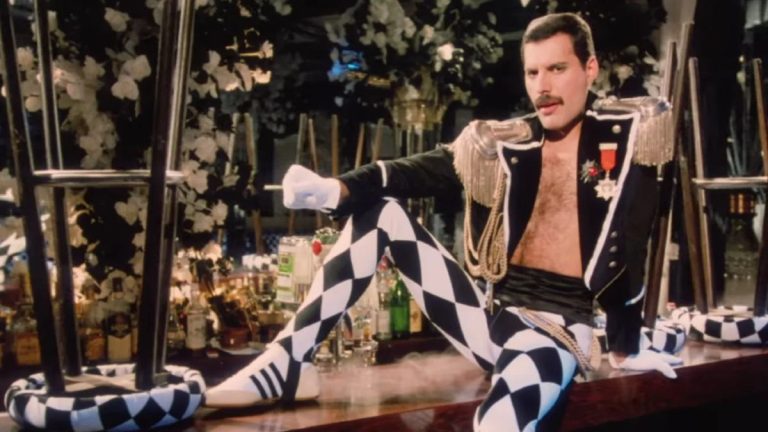 Their disks
Mercury released two solo studio albums:
Mr. Bad Guy (1985)
The title of the album was inspired by a phrase that Freddy used to say at concerts: «You can be anything you want to be, just turn yourself into anything you think that you could ever be.
Be free with your tempo, be free, be free. Surrender your ego – be free, be free to yourself.
If there's a God or any kind of justice under the sky, if there's a point, if there's a reason to live or die, if there's an answer to the questions we feel bound to ask, show yourself – destroy our fears – release your mask.
Oh yes, we'll keep on trying, hey tread that fine line. Oh we'll keep on smiling yeah (yeah). And whatever will be – will be. We'll just keep on trying. We'll just keep on trying.
Till the end of time. Till the end of time. Till the end of time.» At the end of the song, Freddie shouted: «I'm a bad guy!»
Mr. Bad Guy
album was recorded in Munich, Germany, where Freddie lived at the time. There he met his partner Jim Hutton, an Irish hairdresser who accompanied him until the end of his life.
Mr. Bad Guy was Freddie's first album in which he used synthesizers and drum machines, instead of acoustic instruments. This gave it a more pop and electronic sound, which contrasted with Queen's rock style.
Contains some of Freddy's most famous songs, such as
«I Was Born to Love You»,
«Made in Heaven» and
«Living on My Own».
There are also more experimental songs, such as «There Must Be More to Life Than This», which was originally going to be a duet with Michael Jackson, but which ultimately did not materialize.
This recording received mixed reviews from the press and public, and did not have much commercial success. However, over time it has become a cult album for fans of Freddie and Queen, and is recognized as a masterpiece of pop music.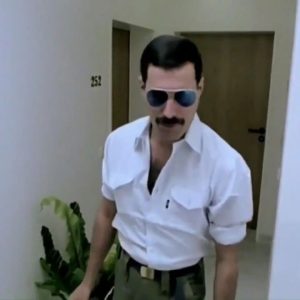 Barcelona (1988).
Barcelona was second solo work, after Mr. Bad Guy (1985). However, he considered it to be a duet album with Montserrat Caballé, whom he deeply admired.
The idea of collaborating with Caballé arose when Mercury proposed to him to compose a song for the 1992 Barcelona Olympic Games, which would be held four years later. The song was called Barcelona and was the first single from the album.
Mercury and Caballé recorded the album in different studios and countries, due to their busy schedules. They only met three times to rehearse and perform together: in Ibiza, London and Barcelona.
The album contains eight songs, all written or co-written by Mercury, except Overture Piccante, which was composed by Mike Moran, the album's producer. The songs mix elements of rock, opera, pop and traditional Catalan music.
The album was very well received by critics and the public, and sold more than three million copies worldwide. Furthermore, it was reissued in 1992 for the Olympic Games, and in 2012 with new orchestrations.
Unfortunately,
Mercury could not see the success of his work, since he died in 1991 due to AIDS.
Caballé paid tribute to him by singing Barcelona at the opening ceremony of the Olympic Games, along with a recording of Mercury's voice.
The first was a pop and rock album that included hits such as «I Was Born to Love You», «Made in Heaven» and «Living on My Own».
The second was an opera-rock album that featured the collaboration of the Spanish soprano Montserrat Caballé, with whom Freddie Mercury performed the song «Barcelona», which was the anthem of the 1988 Olympic Games.
Both albums received mixed reviews, but They demonstrated Freddie Mercury's versatility and talent as a composer and performer.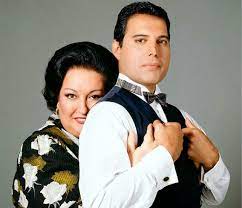 His friends
Mercury had many friends in the world of music and entertainment, with whom he shared stages, parties and unforgettable moments.
Some of them were David Bowie, Elton John, Michael Jackson, Rod Stewart, Liza Minnelli and Diana Ross.
Also maintained a close relationship with his Queen bandmates: Brian May, Roger Taylor and John Deacon, whom he considered his family.
Despite the differences and conflicts that arose between them, they always supported and respected each other.
Your partners
Freddy was a man who lived his sexuality freely and without prejudice.
Throughout his life, he had several partners, both men and women, with whom he experienced love, desire and pain.
The most important was Mary Austin, whom he met in 1970 and with whom he had a relationship for six years.
Although they broke up when Freddy Mercury confessed to her that he was bisexual, they remained friends until the end and he left her most of her inheritance.
Other notable couples were Jim Hutton, an Irish hairdresser who was with Freddy Mercury in his later years;
Paul Prenter, his personal assistant and lover who betrayed him by selling information about his private life; and Barbara Valentin, a German actress with whom he had an affair in the 1980s.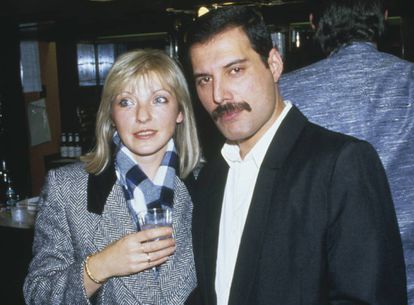 His awards
He received numerous awards and recognitions for his musical career both with Queen and alone. Some of them were the Brit Award for best British male artist in 1992 (posthumously),
the Ivor Novello Award for song of the year for «Bohemian Rhapsody» in 1976,
the MTV Video Music Award for best male video for «I Want to Break Free» in 1984,
the Ondas Award for best international album for Barcelona in 1988 and the Grammy Lifetime Achievement Award in 1990 (along with Queen)
. Additionally, Freddy Mercury was inducted into the Rock and Roll Hall of Fame in 2001 (along with Queen),
the Songwriters Hall of Fame in 2003, and
the UK Hall of Fame in 2004.
Freddy Mercury and his last days
Was one of the most iconic and charismatic singers in rock history.
His voice, his style, and his personality made him a legend that continues to inspire generations of artists. However, his life was also marked by tragedy, since he suffered from HIV at a time when there were no effective treatments to combat it.
In this article, we will review the last days of Freddy Mercury, from when he publicly announced his illness until his death on November 24, 1991, at the age of 45.
We will also see how he said goodbye to his Queen colleagues and his fans, and how his musical legacy has been kept alive.
The announcement of his illness
Freddy Mercury contracted HIV in the mid-80s, but kept it a secret for a long time.
Only those closest to him knew about his condition, and he continued working on his music with the same passion and dedication as always.
In fact, in 1989 he released his second solo album, The Miracle, which included hits like I Want It All, Breakthru and The Invisible Man.
However, as the illness progressed, his physical appearance deteriorated and rumors about his health became stronger and stronger.
The media speculated about his possible AIDS, but he never confirmed or denied it.
Just one day before he died, on November 23, 1991, he issued an official statement in which he revealed to the world that he had AIDS and asked for respect and privacy for himself and his loved ones.
The statement said the following:
«Following the enormous press speculation of the last two weeks, I wish to confirm that I have tested positive for the AIDS virus.
I felt it was right to keep this information private to this day to protect the privacy of those who contact me.
However, the time has come for my friends and fans around the world to know the truth and I hope that everyone will join me, my doctors and everyone who has supported me in this fight against this terrible disease.
My «Privacy has always been very special to me and I am famous for not giving interviews. Please understand this as my policy now as well.
I will not give interviews or speak about this matter beyond this statement. I hope everyone respects my wish.»
His death and his funeral
The day after issuing the statement, Freddy Mercury died at his home in London due to bronchopneumonia complicated by AIDS. His death shocked the entire world, which mourned the loss of one of the greatest musical talents of the 20th century.
His funeral was held on November 27 in a private ceremony attended by only about 35 people, including family, friends and Queen's colleagues. Freddy Mercury's body was cremated and his ashes were scattered in a secret location known only to his former partner Mary Austin, who inherited most of his fortune.
His musical legacy
Despite his untimely death, Freddy Mercury left an impressive musical legacy that continues to this day. With Queen, he recorded 15 studio albums and sold more than 300 million records worldwide. Some of his songs, such as Bohemian Rhapsody, We Are the Champions or We Will Rock You, have become universal anthems that transcend the barriers of time and space.
Furthermore, Freddy Mercury was a versatile and eclectic artist who explored different musical genres, from rock to pop, disco, funk and opera. His collaboration with Montserrat Caballé on the album Barcelona was an example of his ability to fuse styles and create masterpieces.
Freddy Mercury was also a reference for the LGBTQ + community, since he openly lived his homosexuality without giving up his success or his freedom. His bravery and charisma made him an icon of diversity and tolerance.
Freddy Mercury was, without a doubt, a star who shone with his own light and who left us an incomparable musical legacy. His voice, his personality and his art are still alive in our hearts and in our ears. As he himself said in one of his last songs: «The Show Must Go On.»